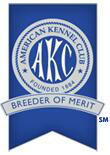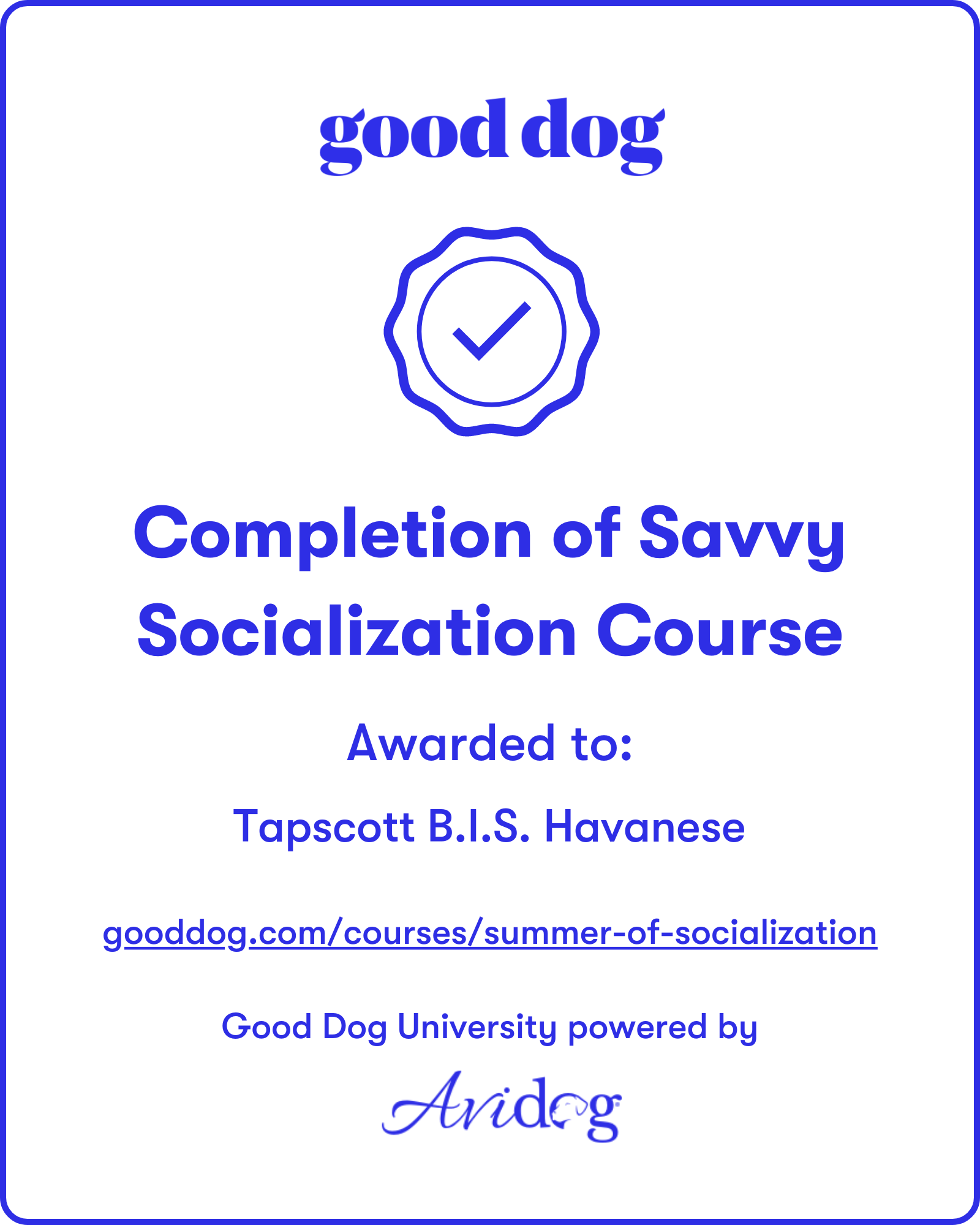 TAPSCOTT'S
BEST IN SHOW HAVANESE
***STRIVING FOR EXCELLENCE***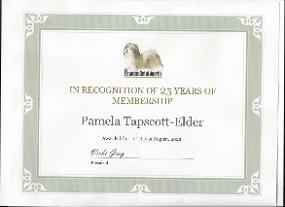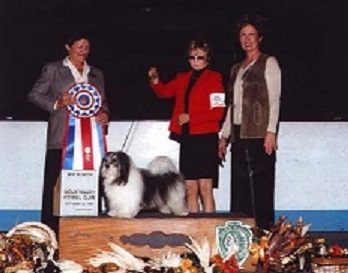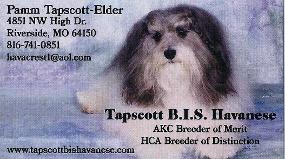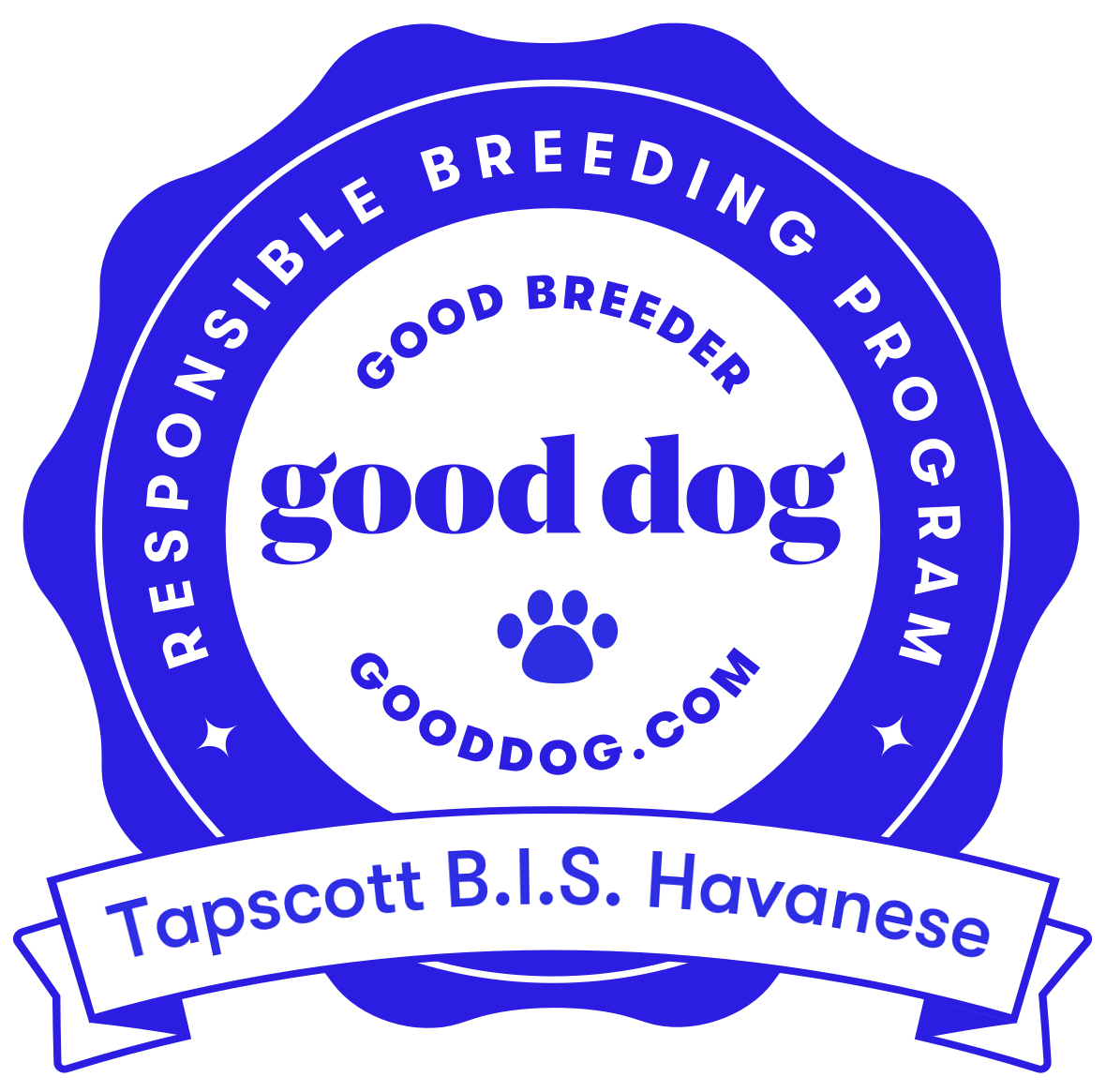 We, at TAPSCOTT'S BEST IN SHOW HAVANESE , are striving for Excellence and cutting no corners to achieve it.
HAVE BEEN ASKED MANY TIMES WHY WE POST SOAPS OF OUR DOGS, WELL, WE AT TAPSCOTT'S B.I.S. HAVANESE HAVE NOTHING TO HIDE AND WE ARE PROUD OF OUR DOG'S WONDERFUL STRAIGHT FRONT LEGS, WE WILL NEVER BREED FROM DOGS WITH BOWED FRONT LEGS AND THAT IS A BAD PROBLEM IN OUR WONDERFUL BREED.
WE BREED FOR THE PRESERVATION OF OUR BLOODLINES!!!
When looking for that new puppy, whether it be for a loving Companion only, or that possible next show dog, go to the Havanese Club of America Breeder Referral site, that is the place to find reputable breeders who are in it for the dogs and not the money, as Commercial breeders and back yard breeders ALWAYS are!!!

We have raised, shown and loved dogs for over FORTY years and have watched newbie after newbie enter our breed for all the wrong reasons. Anyone who goes into dogs to make money, is either a Commercial Kennel..aka Puppy Miller, or delusional. If you do it right, with the dogs as your main focus...you will not make much money, if any.

Not all dogs were meant to be Champions, this has no bearing on their quality, at least for us. In order for a dog to be a successful show dog, they have to be literally comfortable in their own skin and strut their stuff at the dogshows.

All Havanese at Tapscott's are health tested, and certified with OFA, none are ever bred that possess genetic problems. Though some may be lacking a Ch. in front of their names, in our family, this does not reflect their quality, nor lack of it. Some dogs were obtained older, or else simply had no interest in the world of competition.

Do not be mislead by breeders stating they only breed champions, as a professional handler can finish the titles on anything. We Show our own dogs and if it is something they hate, then we do not force them to do what they hate to do, as we love them too much to make their lives miserable.

WE BREED FOR QUALITY AND NOT QUANTITY, and our record reflects this fact.

So when looking for that special puppy do not look for only CH. titles on the sires, nor dams, as that does not insure they are top of the line.

Our BEAUTIFUL CARLITA VOM SALZETAL, was never shown and she was the Top Producing Bitch in the Nation for 2004, which proves our point. The First Havanese to have even won an All Breed Best In Show, HotShot, was the result of two non champion parents. So, buyer beware..judge the dog, health clearances and breeders reputation, NOT the titles on the pedigree,

We are NOT a kennel, our dogs live and love 24/7 in our Home with us, as valued family members.We breed for confirmation, temperament, and health, as feel it takes all three portions to make the whole dog. There are no questions we won't answer, so please ask us anything, we believe in total, full disclosure ALWAYS!
BUYER BEWARE!
Be sure to check out the breeders, do NOT buy from breeders who are NOT members of the Havanese Club of America, do NOT buy from USDA licensed kennels and do NOT buy from breeders who take credit cards, these are living little fur KIDS, and deserve to be raised as such!
Beware of dogs that are being sold as Tapscott Havanese, unless we are listed AS THE BREEDERS, they are NOT Tapscott dogs, it is just a ploy being used to sell dogs resulting from dogs that we would never have blended into our hard worked for lines.

BEST IN SHOW WINNING
THE FIRST ONE EVER, ANYWHERE!
TOTALLY OWNER/HANDLED ALWAYS~
Intl. HCA. AKC. CH Westcreek Hot Shot Tapscott R.O.M.X
chic# 21326
HotShot crossed over the Rainbow bridge on 6/6/2014, rest in peace our sweet boy, you were one in a million and your legacy will live on via your offspring.
Proud Members of the Havanese Club of America since 1997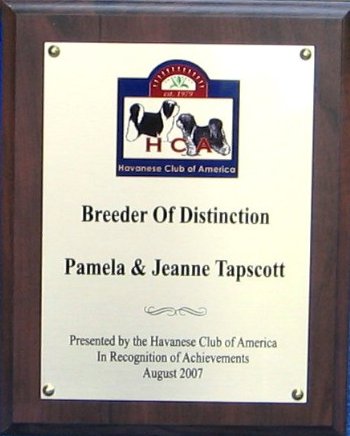 ALL OUR DOGS ARE OFA HEALTH TESTED AND CERTIFIED